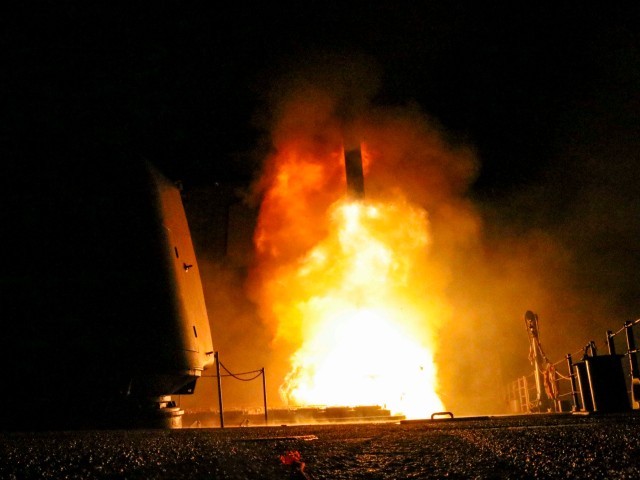 Syria's Ministry of Expatriates and Foreign Affairs vehemently protested targeted airstrikes against Assad regime scientific research centers in Damascus early Saturday morning local time in response to alleged chemical attacks by the regime, blaming them on "western arrogance and hegemony."
The Syrian Arab News Agency (SANA), the official agency of the Assad regime, also published articles touting support from its close ally Cuba and the Chinese Communist Party in light of the attacks, which the Trump administration has insisted were targeted, one-time affairs.
SANA quoted a letter that the Syrian Ministries reportedly sent to United Nations Secretary-General Antonio Guterres on Saturday in which they denounced the "ferocious aggression" of the Trump administration – with support from France and the UK – against Assad.
Claiming that "the majority" of missiles targeting assets in the capital city were shut down, the ministries confirmed that some "hit one of the buildings of the Research Center in Barzeh in Damascus, which includes an educational center and scientific laboratories." Three civilians were allegedly injured.
SANA writes that the Ministries' statement "affirmed that the aggression of western arrogance and hegemony regimes came as a result of the feeling of frustration with the failure of the conspiratorial project" against Assad. "The Ministry reiterated that the brutal barbaric aggression, which was met by the high spirit of the Syrian people who took to streets and squares in condemnation of this attack, will not affect the determination and will of the Syrian people."
SANA has begun compiling statements of support from Assad's allies. The communist dictatorship in Cuba is among Assad's most vocal allies, particularly at the United Nations. Raúl Castro's Foreign Ministry has already issued a statement of rebuke against the United States.
The Cuban Foreign Ministry reportedly "expressed the solidarity of the revolutionary government of Cuba with the Syrian people and leadership against this barbarous aggression," according to SANA.
The lead story at press time on the website of Granma, the official newspaper of the Communist Party of Cuba, republishes the entire Cuban regime statement.
The remarks read:
The Revolutionary Government of Cuba expresses its most energetic condemnation of the new attack perpetrated by the United States. … This unilateral action, at the margins of the UN security council, constitutes a flagrant violation of the principles of International Rights … and an assault against a sovereign state.
SANA also reprinted the response to the attacks from the Chinese Communist regime, which condemned the attacks in milder terms. According to the outlet, Chinese Foreign Ministry spokeswoman Hua Chunying said the attack "contradicts the UN Charter principles and violates norms of the international law and the basic criteria that govern the international relations and would complicate the crisis in Syria."
Like Assad's regime, both China and Cuba are flagrant violators of international human rights norms.
One Assad ally that has yet to issue a statement specifically addressing the attacks is North Korea, whose state media, instead, published a general condemnation of the United States on Saturday. The state newspaper Rodong Sinmun warned that "the imperialists," meaning the United States and the West generally, were making "more vicious moves to dominate other countries and nations" and that North Koreans must understand "the struggle against them is vital for the destiny of each country and nation."