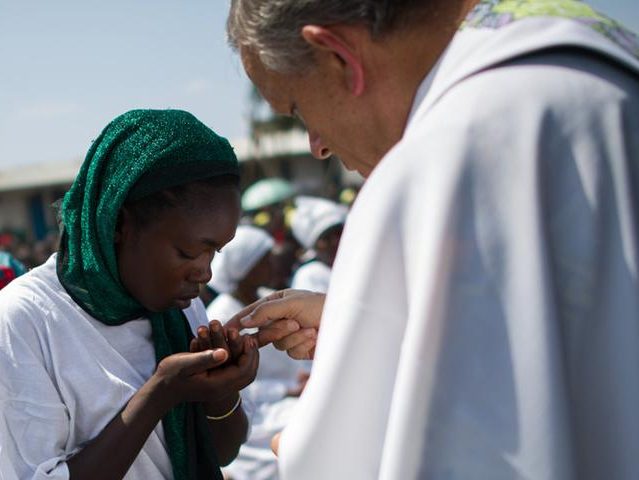 The Roman Catholic Church in Democratic Republic of Congo has suspended the issuing of sacraments in affected regions until the government announces an end to the ongoing Ebola outbreak in that country, the outlet Religion News Service reported on Tuesday.
The outbreak, which the World Health Organization (WHO) announced on Wednesday is close to coming under full control, triggered panic in the country as it occurred downstream from one of the nation's largest urban centers. The Ebola virus killed over 11,000 people during the last outbreak, lasting from 2014-2016 and primarily affecting Liberia, Guinea, and Sierra Leone.
A key difference between the two outbreaks has been the use of an experimental Ebola vaccine, which did not exist in 2014 and the government in Kinshasa approved for use among individuals identified as "contacts" of confirmed Ebola patients.
"Catholics will not be baptized, confirmed, ordained or anointed until further notice in the country's northwestern regions hardest hit by the outbreak," Religion News reported, throughout the Archdiocese of Mbandaka-Bikoro, where an estimated 1.2 million Catholics live. Mbandaka is a city of over one million people and the regional capital; its status as the heart of the Ebola outbreak has triggered concerns that the virus may travel up the Congo River to the capital, Kinshasa.
According to Religion News, Archbishop Fridolin Ambongo Besungu announced the measures this week, noting that medical workers identified one of the Ebola patients as a priest; he has recovered since his diagnosis.
Catholic sacraments like Communion, Confirmation, and Baptism often require contact between priests and the subjects receiving them. Ebola is transmitted through bodily fluids, including sweat and saliva, which makes this sort of contact especially risky. The announcement reportedly stated that Catholics will be allowed to receive Communion, but only by the hand. Priests can typically offer Catholics the Eucharist directly to the mouth, which could expose them to saliva.
About half the population of DR Congo is Catholic, and the Church has established itself as a major political force against President Joseph Kabila, who has refused to step down despite his term ending nearly two years ago. Kabila claims he cannot step down until the nation votes to pick a successor, but refuses to schedule elections.
Human Rights Watch warned on Wednesday that the human rights violations of the Kabila government could exacerbate a chaotic situation that can hurt the fight against Ebola. Conversely, the organization warned Kabila not to use Ebola as an excuse to quarantine political dissidents.
"Over the past three years, the Congolese government has brutally repressed dissent and curtailed basic civil and political rights as President Joseph Kabila has remained in power beyond the end of his constitutionally mandated two-term limit," a Human Rights Watch report read. "Security forces have killed more than 300 people during largely peaceful protests since 2015 and arrested hundreds of others, while the government has cracked down on media and civil society groups. The government should not use the Ebola crisis as a pretext to further clamp down on people's fundamental rights."