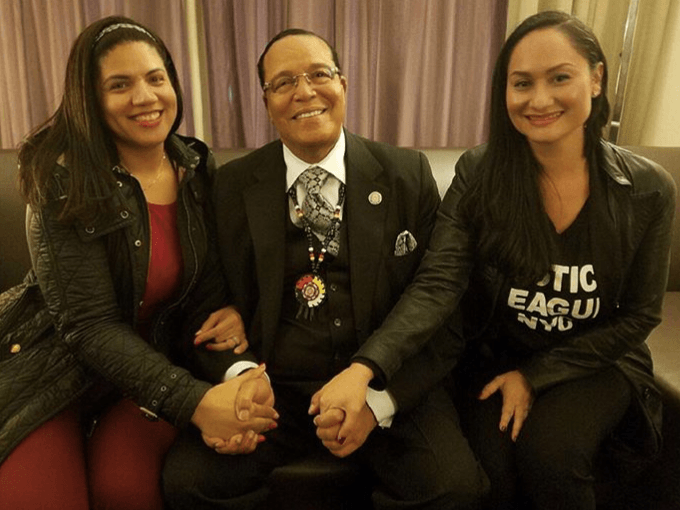 An anti-Trump organization linked to Nation of Islam leader Louis Farrakhan is leading the "National School Walkout" on March 14, in which millions of children will be instructed to demonstrate against guns.
The "Women's March" organization, which conducted nationwide "pink pussyhat" protests the day after President Donald Trump's inauguration last year, is leading the National School Walkout in coordination with the national Parent Teacher Association (PTA).
Through the PTA, many local school districts will be participating in the protest, and teachers and administrators will be encouraging students to "walk out" of class to demonstrate for gun control.
The Women's March is not only an avowedly political organization, but it is also led by radicals such as co-president Tamika D. Mallory, who attended an antisemitic speech by Farrakhan last weekend in which he specifically praised her from the podium. Farrakhan declared that "the Jews have control over agencies of government," among other inflammatory remarks.
It was not the first time Mallory had heard him speak, either: she has repeatedly attended his events. On one occasion, she posed with him for a photograph and referred to him as the "GOAT" ("greatest of all time").
The Honorable Minister Louis Farrakhan just stepped to the mic for #SD16DET… I'm super ready… https://t.co/sNJtF2Tze1

— Tamika D. Mallory (@TamikaDMallory) February 21, 2016
When confronted about her association with Farrakhan, Mallory merely made antisemitic statements of her own, attacking the "enemies of Jesus."
If your leader does not have the same enemies as Jesus, they may not be THE leader! Study the Bible and u will find the similarities. Ostracizing, ridicule and rejection is a painful part of the process…but faith is the substance of things!

— Tamika D. Mallory (@TamikaDMallory) March 1, 2018
Other Women's March leaders have also expressed admiration for Farrakhan; co-chair Carmen Perez called him an "inspirational individual."
And co-chair Linda Sarsour, an anti-Israel firebrand who called for a "jihad" against the Trump administration, and who says women who protest radical Islam should have their vaginas taken away, also praised Farrakhan in the past.
Mallory, Perez, and Sarsour refuse to distance the Women's March from Farrakhan, which has earned them rebukes from the Anti-Defamation League as well as "progressive" Jewish groups, who note the Women's March would never tolerate the kind of bigotry against any other group that it is willing to defend when Farrakhan attacks Jews.
And yet the Farrakhan-linked Women's March will be leading millions of children out of the classroom and into the streets, thanks to the PTA and local school boards across the country. The Sacramento Bee even acknowledges the role of the Women's March in leading the March 14 protest, but fails to note the group's radical political ties.
Enough is enough!

Women's March Youth EMPOWER is calling for students, teachers, and allies to take part in a #NationalSchoolWalkout for 17 minutes at 10am on March 14, 2018. Join us in saying #ENOUGH!https://t.co/8ZE8uthRlZ pic.twitter.com/45yCZl4zDm

— Women's March (@womensmarch) February 16, 2018