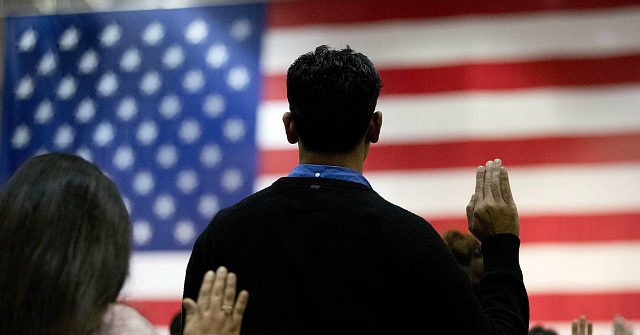 House Republicans and Democrats are rewarding the "indentured servitude" business model of Silicon Valley's tech conglomerates with a bill that allows Indian nationals to monopolize the United States' green card system, an expert says.
In an exclusive interview with SiriusXM Patriot's Breitbart News Tonight, Center for Immigration Studies Director of Policy Jessica Vaughan said the 140 House Republicans and 224 House Democrats who voted to back fast-tracking green cards for hundreds of thousands of Indian nationals who came to the U.S. to take high-paying American jobs is an "indefensible" position that rewards the outsourcing, cheap labor business model of Silicon Valley.
LISTEN:
Vaughan said:
Right now, most of the people on the waiting list [for a green card] are from one country: India. So they have to wait in a longer line because there are so many people asking for green cards through their employers, who promised them a green card even though they came on a temporary visa.

If this were to pass, it would mean that instead of the 25 percent of the employment-based green cards that Indians now receive, they would get more than 90 percent of them for at least the next ten years. And that means that a highly skilled immigrant that an employer wants to bring in from anywhere in rest in the world will have to wait more than a decade to come here. [Emphasis added]

The real beneficiaries of this provision are the employers in Big Tech and the Indian outsourcing companies who, for a long time, have been replacing their U.S. workers with cheaper contract workers coming in on temporary visas. And because many of them discriminate against Americans and people from other countries, almost 80 percent of [temporary foreign visa workers] are from India. And they've been bringing in more people than can be accommodated in the numerical limits of our legal immigration system. [Emphasis added]

So this would basically reward the very employers that have abused our temporary visa system and replaced American workers, and they would get to basically move on and continue bringing in contract workers. And the workers, themselves, would get their green cards faster. And it just rewards a system that has been terrible for U.S. workers and it's really, I think, indefensible. [Emphasis added]
The legislation, known as HR. 1044, would eliminate the country caps law that prevents one country from monopolizing the nation's green card system. Instead, employers like Infosys and Amazon — both of which have brought in thousands of foreign H-1B workers to replace Americans — would be able to fast-track the importation of temporary, imported foreign workers for U.S. jobs while getting their existing foreign workers green cards more quickly.
'This change would reward that indentured servitude model that has worked so well for Big Tech but not so much for the workers who had these jobs before," Vaughan said. "Basically what these employers do is recruit workers to come from India who will agree to take the jobs for less money."