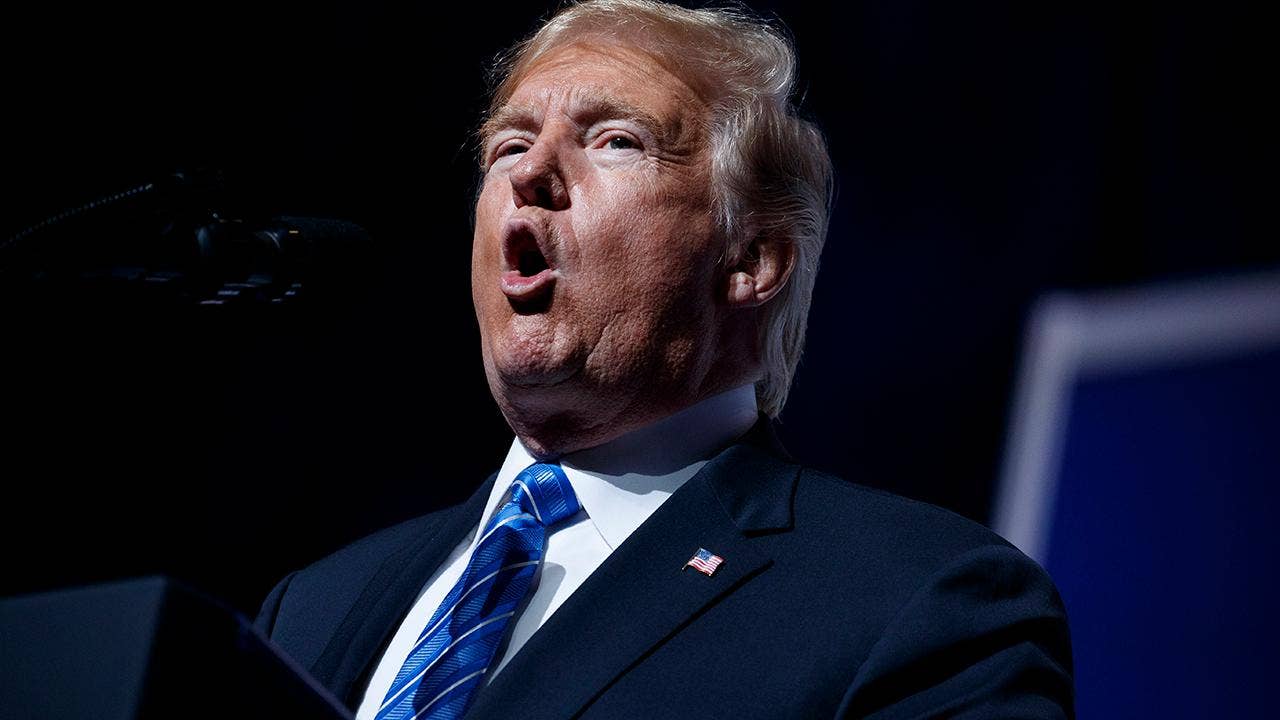 **Want FOX News Halftime Report in your inbox every day? Sign up here.**

On the roster: Trump feeds farmers pork to ease tariff woes – Sally Persons: 'Georgia runoff puts trump's clout on the line – Again' – Blankenship collects signatures needed to rejoin race – Holder to decide on 2020 run next year – 'And I got ice for them'
TRUMP FEEDS FARMERS PORK TO EASE TARIFF WOES
"Just remember: What you're seeing and what you're reading is not what's happening." – President Trump addressing the Veterans of Foreign Wars convention today in Kansas City.
America's bent for 90s nostalgia wouldn't be complete without revisiting the fight over trade and tariffs for the first time in a generation.
Back then, a Democratic president went to war with his own base to eliminate tariffs on imports from and exports to Canada and Mexico. This time, a Republican president is fighting with his base over putting new tariffs in place on goods from around the world.
The administration announced today $12 billion in welfare programs for farmers who are suffering from the retaliations of those countries President Trump is trying to hurt with duties on their exports to the U.S.
We take no position on whether or not the president's trade wars will ultimately result in a healthier national economy, but we do know that as a political matter this is getting to be a pretty big deal.
Trump has the authority to dole out the dollars to frighten farmers under New Deal-era authority granted to then-President Franklin Roosevelt as his administration followed similarly protectionist policies. This is, of course, considered offensive by economic conservatives who are watching in horror as a Republican president tries to centrally plan the American economy.
But free marketers are hardly a majority of the electorate. They're probably not even a majority of the Republican Party. The broad bipartisan movement toward free trade has hardly been a populist one. As has been the case with immigration, the bipartisan coalition of policymakers had taken for granted that because their policies generally produce prosperity that they were not obliged to sell them anymore.
If you were to pick the one indispensable issue for Trump in 2016 it would be trade. Certainly, his scalding rhetoric about Mexican immigrants helped him build and maintain the coalition that delivered for him the Republican nomination, but trade mattered more for Trump in the general.
The old anger at the Clintons over NAFTA is still real among Democrats in the industrial Midwest. Globalism has a long historical arc, but the enactment of the North American Free Trade Agreement stands out in the minds of union-labeled Democrats as the time when one of their own sold them out.
There are a lot of ways to explain why places like Genesee swung more than 20 points from blue to red between 2012 and 2016, but none are as significant as Trump's promise to torch NAFTA, pummel China and use protectionist trade policies to rebuild demand for low-skilled manufacturing jobs.